Marsden Hartley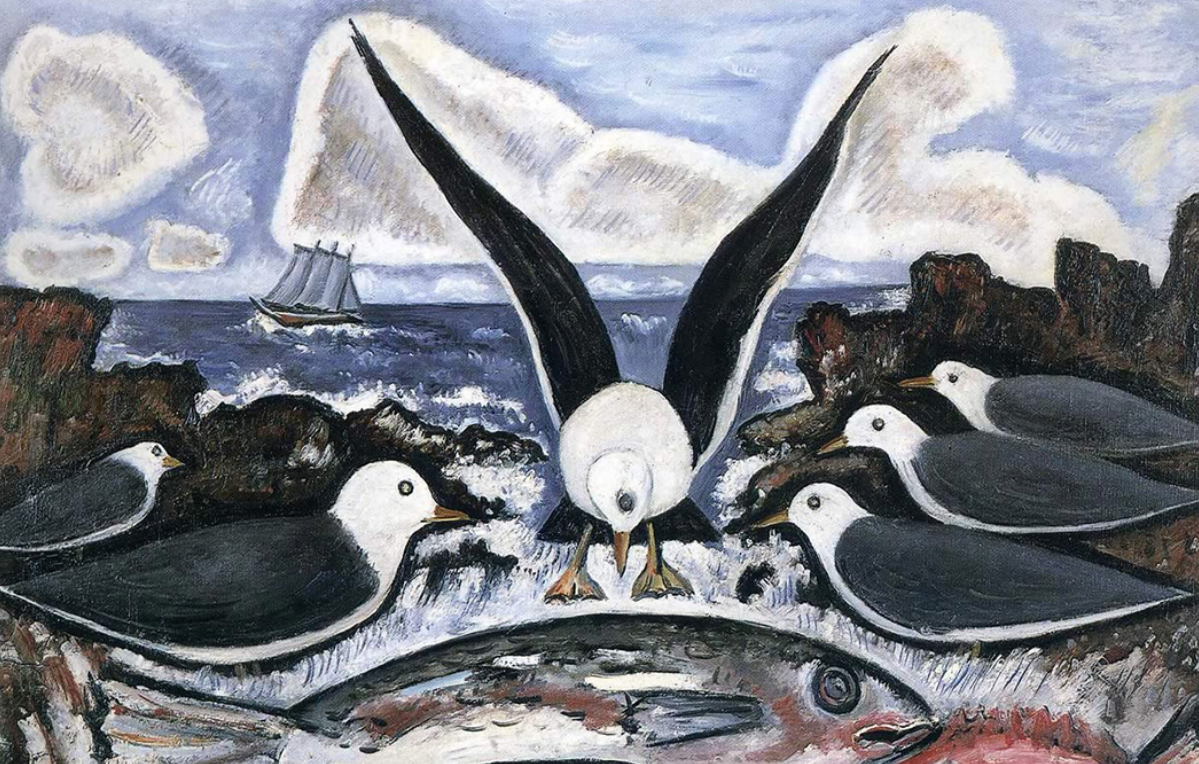 Celebrating mountains and Maine in this weeks posts gives us the opportunity to learn more about one of Maine's greatest modern painters, Marsden Hartley. Born in Lewiston in 1877, Marsden Hartley's early years in Maine were a struggle. He left Maine and lived in Europe, New Mexico, New York, California, and Massachusetts. His life was full of travel, education and dedication to his art, which consisted of painting, poetry, and essays. He returned to Maine in 1937 and lived here until his death in Ellsworth in 1943. His ashes were spread on the Androscoggin River.
"After settling in New York in 1898, he studied under William Merritt Chase and later at the National Academy of Design, but his style was most greatly affected by Albert Pinkham Ryder and the Impressionist Giovanni Segantini. He had his first one man show at Stieglitz's "291 " gallery in 1909. Through "291," he was introduced to the art of Cezanne and Picasso, whose ideas on structure he readily absorbed. While living abroad in Paris and Berlin from 1912 to 1915, his style was redirected toward abstraction by the influence of Kandinsky, Franz Marc and the Fauves. He worked in Provincetown, Maine, New Mexico, California and New York before returning to Europe in 1921. By 1920 Hartley's painting had become increasingly representational. His later landscapes, endowed with a rustic power, express a strong romantic attachment to his native land. He returned to America in 1930 and traveled extensively while working mostly in Maine. In addition to painting, Hartley also composed poetry and wrote on modern art."
Marsden Hartley, Cosmos The Mountains
Marsden Hartley, Give Us This Day
Marsden Hartley, "Art and the Personal Life," 1928
"As soon as a real artist finds out what art is, the more he is likely to feel the need of keeping silent about it, and about himself in connection with it. There is almost, these days, a kind of petit scandale in the thought of allying oneself with anything of a professional nature. And it is at this point that I shrink a little from asserting myself with regard to professional aspects of art. And here the quality of confession must break through. I have joined, once and for all, the ranks of the intellectual experimentalists. I can hardly bear the sound of the words "expressionism," "emotionalism," "personality," and such, because they imply the wish to express personal life, and I prefer to have no personal life. Personal art is for me a matter of spiritual indelicacy. Persons of refined feeling should keep themselves out of their painting, and this means, of course, that the accusation made in the form of a querulous statement to me recently "that you are a perfectionist" is in the main true.
I am interested then only in the problem of painting, of how to make a better painting according to certain laws that are inherent in the making of a good picture and not at all in private extraversions or introversions of specific individuals. That is for me the inherent error in a work of art. I learned this bit of wisdom from a principle of William Blake's which I discovered early and followed far too assiduously the first half of my aesthetic life, and from which I have happily released myself and this axiom was: "Put off intellect and put on imagination; the imagination is the man." From this doctrinal assertion evolved the theoretical axiom that you don't see a thing until you look away from it which was an excellent truism as long as the principles of the imaginative life were believed in and followed. I no longer believe in the imagination. I rose one certain day and the whole thing had become changed. I had changed old clothes for new ones, and I couldn't bear the sight of the old garments. And when a painting is evolved from imaginative principles I am strongly inclined to turn away because I have greater faith that intellectual clarity is better and more entertaining than imaginative wisdom or emotional richness. I believe in the theoretical aspects of painting because I believe it produced better painting, and I think I can say I have been a fair exponent of the imaginative idea.
I have come to the conclusion that it is better to have two colors in right relation to each other than to have a vast confusion of emotional exuberance in the guise of ecstatic fullness or poetical revelation both of which qualities have, generally speaking, long since become second rate experience. I had rather be intellectually right than emotionally exuberant, and I could say this of any other aspect of my personal experience."
>> Paintings by Marsden Hartley. Article from Artchive.
Marsden Hartley, Mountain Lake, Autumn, 1910
Marsden Harley, Islands, Penobscot Bay
Marsden Hartley, Mont Sainte-Victoire (red), 1927
Marsden Hartley, Mont Sainte-Victoire (pink), 1927
Marsden Hartley, Purple Mountains, 1925-1926
Marsden Hartley, Spirited Morning— Mexico, 1932
Marsden Hartley, "Indian Point"
When the surf licks with its tongues these volcanic personal shapes, which we, defining for ourselves as rocks, accept them as such, at its feverish incoming isn't it too, in its way, something like the plain image of life? Those restless entities disturbing solid substances with a curious, irrelevant, common fret – and, like so many simple looking elements, when they seem the most playful, it is then that they are most dangerous. The bright woman looking out to sea through the crisp telescope of her advancing years, there is no doubt but that she discovers the same image as the child, who remarks the radiant glint of his marbles on the top spray of the wave he once played with, or as the fringed lace on the dress of a Titan's wife – the inwash cooling at least the eye with a something exceptional white or green or blue, too pale almost to mention, if frightening to the marrow, for many have been sent to their death trusting too much while regarding it affectionately, the sea.