Ruth Asawa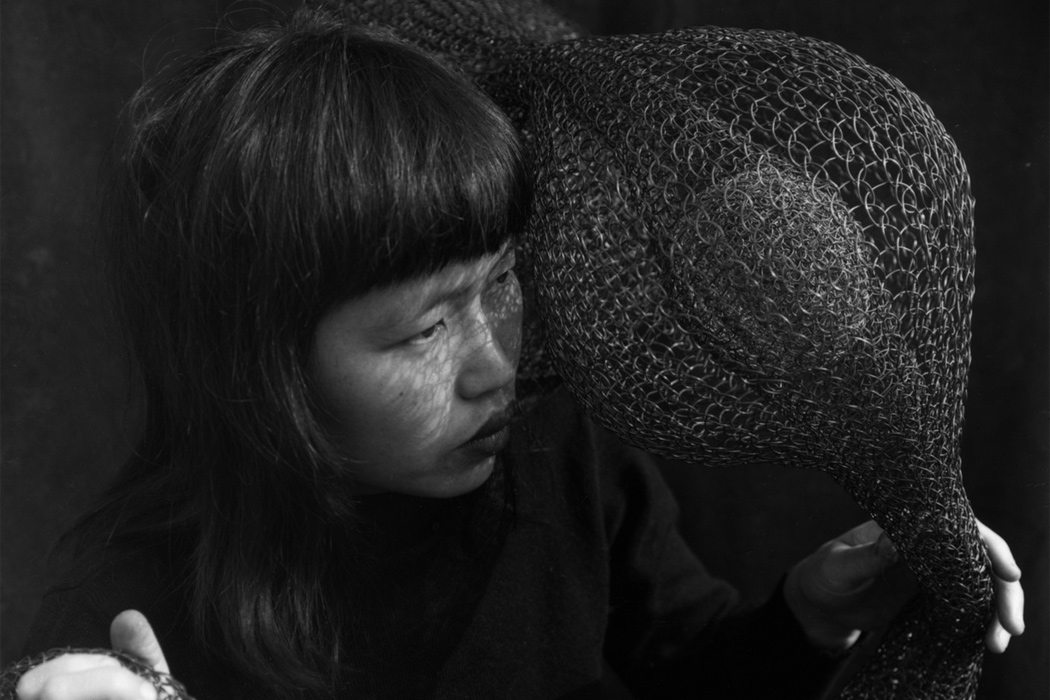 Ruth Asawa's work is otherworldly. Her sculptures have a dreamy, cellular quality and create an atmosphere of meditation and peace. Born in California in the 1920's, Ruth Asawa was sent to an internment camp with thousands of other Japanese Americans. While in the camp, she learned her craft from artists that were working there. It's hard not to compare the freedom of her sculptures and the peaceful energy they exude with the circumstances under which she created her first sculptures. While her work may be otherworldly, her story is very much of this world and a beautiful reminder of the strength of the human spirit and the power of peaceful energy.
"Untitled"'s, 1950's – 1960's
Ruth Asawa in her studio, 1959. Ruth Asawa's living room, 1970's.
"Born in 1926 in Norwalk, California, Asawa was sent to an internment camp as a teenager along with 120,000 other Japanese-Americans. It was here that she received guidance from professional artists working in the camps, using artistic freedom as her personal rights were stripped away.
Asawa remarkably harbors no ill will regarding the injustices she was forced to endure at the time: "I hold no hostilities for what happened; I blame no one," she said in a statement. "Sometimes good comes through adversity. I would not be who I am today had it not been for the Internment, and I like who I am."
Life Magazine feature, 1954. Buckminster Fuller with an Asawa sculpture in his Dymaxion House, 1964.
Ruth and her husband Albert in their living room, 1970's. Living room ceiling, 1990's.
"Asawa's works invite endless curiosity and wonder to dwell upon the simplest of contours, curves, loops and lines. Best known for her wire sculptures, Asawa brought out the natural qualities of inorganic materials, showing the life inherent in every object no matter how banal or industrial. Growing up in a Buddhist family, Asawa incorporated their ideals of transforming the everyday in her pieces."
>>Article by Priscilla Frank at Huffington Post. Photography from Mondo Blogo, most taken by Imogen Cunningham.
Ruth Asawa working on a bed, 1957.
Wearable Gold Crown, 1950's.
"Regrettably but perhaps not surprisingly, Asawa has often been dismissed by the art establishment. She received a long-overdue first retrospective in 2006 at the De Young in San Francisco, which was a start.
"Because her work uses nontraditional materials and a manual method that appears related to knitting, weaving and craft, it is often overlooked in discussions of modernist sculpture," Dr. Cornell, Director of Contemporary Art Projects at the De Young, said in a statement."
Ruth and her children at home, 1957.
Ruth Asawa's wedding ring designed by Buckminster Fuller and made by Mary Jo Slick Godfrey, 1949.
Ruth Asawa and Imogen Cunningham, 1975.
Ruth Asawa, 1952. "Untitled", 1950's.