Louise Nevelson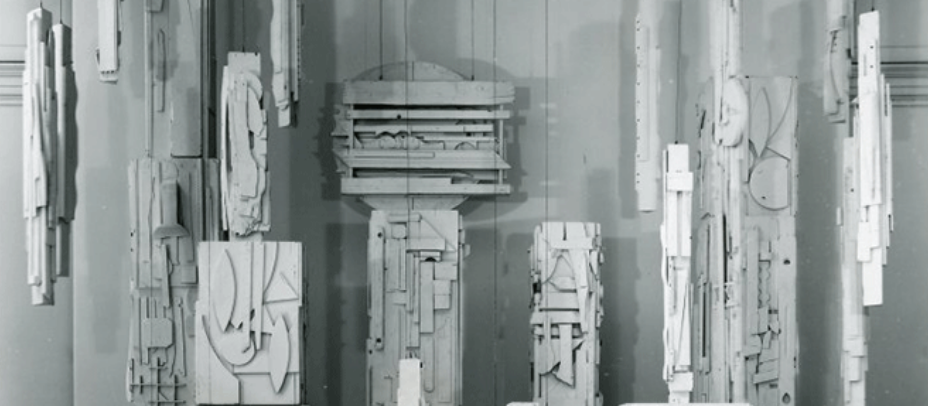 Growing up, my mother would take me to the mainland regularly to visit the Farnsworth Art Museum in Rockland, Maine. It was there that I discovered one of my favorite artists, Louise Nevelson.
Louise Nevelson was born in Russia in 1899. In 1905, her family emigrated to Rockland, Maine. I was enthralled by her work and the story of her life. The fact that she had lived right there in Rockland, maybe even visiting North Haven, the island 12 miles out, where I grew up seemed like magic to me. She had even been the Captain of the basketball team in Rockland and both my mother and I had been basketball captains as well.
When exhibitions of her work came to the Farnsworth, we always felt as though we were secretly her biggest fans. Maybe we are. Her work is still among my most favorite.
New Continent, 1962.
Moving-Static-Moving-Figure, 1947
"Louise Nevelson has a place in the pantheon of modern sculptors of her generation, including Alexander Calder, Barbara Hepworth, Henry Moore, Isamu Noguchi, and David Smith–all born within the same decade (1898 to 1908). Her charismatic personality, however, nearly eclipses her contributions to sculpture. Known for her signature heavy mink eyelashes, eccentric outfits, and defiant self-confidence, she reveled in her status as a celebrity. Nevelson's playwright friend Edward Albee dramatized her life in the play Occupant, which premiered off-Broadway in 2002 with Anne Bancroft cast as the artist." >> Ulrich Museum of Art
Nightleaf, 1969
Dawn's Wedding Feast, 1959
Royal Tide IV, 1960
Both Untitled, 1945
"Born Leah Berliawsky in Kiev, she immigrated with her family to Rockland, Maine, in 1905. There, her father, who descended from a line of woodcutters, worked in the local lumberyard; interestingly, his daughter would employ wood as the primary sculptural medium for her signature works.
She married Charles Nevelson in 1920 and moved to New York, where she spent two decades pursuing various interests, including singing, dancing, acting, and painting. Nevelson studied at the Art Students League in 1929 and 1930, separated from her husband in 1931, and that year traveled to Munich to study with the painter Hans Hofmann. She took classes with him again in 1932, until the threat of Nazism impelled him to leave Germany and teach in New York."
Atmosphere and Enviroment XII, 1970
Bride and Disk and Groom and Disk, 1959-67
American Dawn, 1959-67
"Nevelson returned to America in the early 1930s and apprenticed to the Mexican painter Diego Rivera, assisting him, along with the artist Ben Shahn, on mural projects in Manhattan. Her association with Rivera and his wife, Frida Kahlo (they lived in the same building ), fostered Nevelson's interest in the indigenous art of Mesoamerica.
Like many artists of her generation, Nevelson created abstracted forms to embody the notion of a universal and primal humanism"
>>Article by Ulrich Museum of Art.