Luis Barragan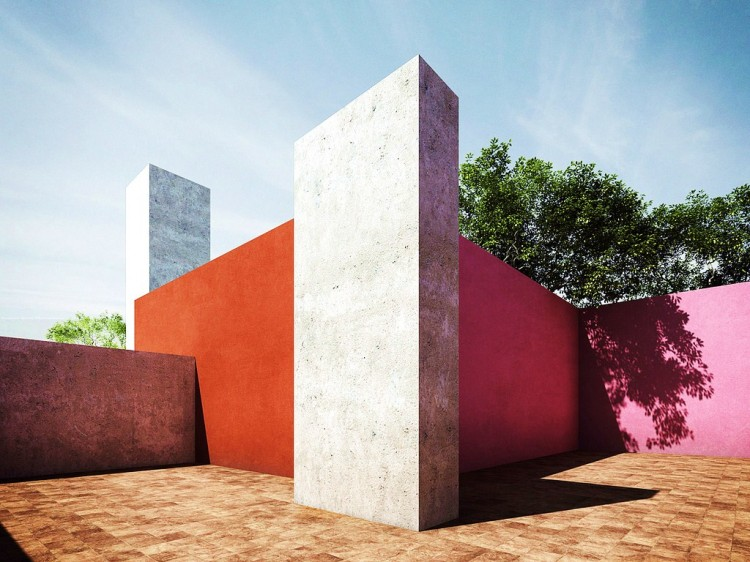 It's impossible to live in Maine and not be inspired by the colors of fall. The trees are blasting out reds, oranges, yellow and greens. The ocean is a deep dark blue. The fields are golden, the ocean floor is ripe and textural and the woods are rich and rusty. While considering which architect would be the best fit with our autumn color stories this week, Luis Barragan was the obvious choice for his use of color and form. His architecture has a sophisticated simplicity that celebrates light, color and a peaceful well being. Enjoy!
"Luis Barragan's house is an oasis. High walls keep out the urban chaos of Mexico City and protect the space within. Shafts of light pierce high windows as though they were beamed down from heaven. It feels more like a temple than a townhouse, yet it is so suffused with the spirit of the architect who built it that he seems just to have stepped out. Which, in a way, he has.
Barragán, who died in 1988, was Mexico's pre-eminent modernist architect. He built skyscrapers, stables, a convent and several private homes, and is still influential today. To celebrate the centenary of his birth, 21 artists from Mexico and around the world spent a year visiting his home, which is now a museum, and creating works of art there. The project, called "The Air is Blue", was dreamt up by Hans-Ulrich Obrist, a contemporary-art curator working with Laboratory Mexico City, a partnership of architects and urban theorists. Mr Obrist and his partners asked the artists to respond in particular to Barragán's intangible—almost other-worldly—fusion of light, colour and form.
One of Barragán's ambitions as an architect had been to create houses that were sanctuaries. So greatly did he cherish this idea that in 1980, when he was awarded the Pritzker prize, architecture's Nobel, he described serenity as "the great and true antidote against anguish and fear", and urged architects "to make it a permanent guest in the home, no matter how sumptuous or humble." Mr Obrist is something of a kindred spirit. He works for the Musée d'Art Moderne de la Ville de Paris, where he organises the "Migrateurs" series of exhibitions, in which artists pick whichever part of the museum they consider most appropriate to display their work. In his search for particular spaces, Mr Obrist has also organised exhibitions on aeroplanes and in cinemas. Two years ago, he brought together a group of contemporary artists to exhibit within the eclectic Georgian setting of Sir John Soane's museum in central London." >> The Economist