Grain Surfboards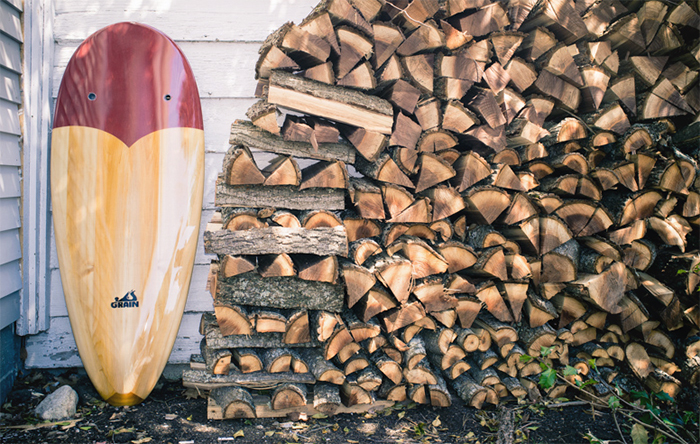 Maine has a long history of skilled craftsmanship. Mainers tend to like to build things themselves, it gives us the opportunity to use the tools in our shop, garage, toolbox, etc. We (Mainers) also like to soak up the seasons in all their glory. What better way to do that than to ride a clean wave on a handcrafted surfboard made with local soft wood and traditional tools? Grain surfboards celebrate everything we love in one fell swoop… mother nature, outdoor adventure, quality craftsmanship and beautiful design.
"Grain Surfboards began in the basement of a home minutes from the waves in York Beach, Maine. Mike LaVecchia combined his love of board sports with a passion for traditional wooden boat-building techniques to create works of art for riding waves. Brad Anderson joined as co-owner shortly after and, with the help of some friends, Grain has grown into a full-fledged surfboard manufacturer known for innovative techniques, classic designs and ground-breaking products.
A groundswell of interest that seems inspired by our total, earnest commitment to our mission and the beauty of natural, sustainable wood surfboards has propelled Grain to the forefront of a growing market. Stated simply, we're committed to building, promoting and riding surfboards that have less impact on the environment and more impact on your surfing. The Grain tradition includes reducing the impact of surfboard production by using locally harvested, sustainable-yield wood products, creatively reducing or reusing any waste left over, and developing techniques for employing greener materials.
In the future, Grain will continue to build custom dream boards and develop new surfboard shapes in collaboration with some of surfing's greats – and with our customers. We'll continue to support do-it-yourselfers with our surfboard kits and workshops – all aimed at teaching like-minded others how to give wood its well-deserved place in the lineup. We'll also continue to develop our line of apparel and accessories, all produced with an eye on classic quality, functional design and environmental responsibility.
We'll always remember our roots. We're motivated by the simple act of riding waves on modern shapes hand-built using classic techniques and local, sustainable wood. The beauty of Grain Surfboards lies in the blend of local softwoods, the artful patterns naturally produced by the growth of the wood itself, and the love of harnessing the power of nature, even for just a fleeting moment."
>>Text and photos by Grain Surfboards.