June Hopkins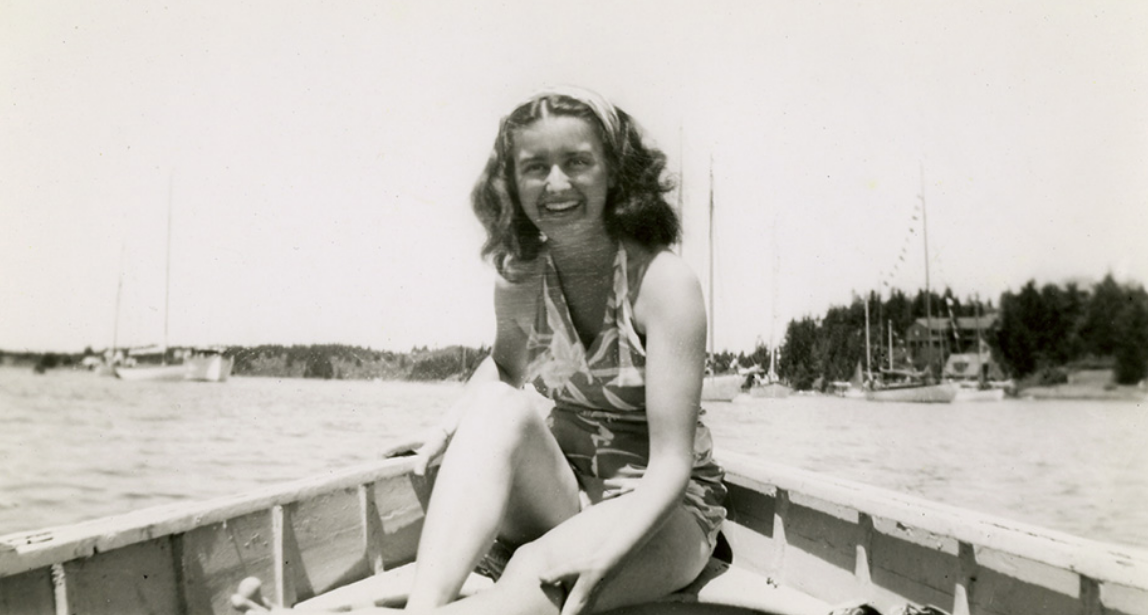 Editor's note: The following story first appeared in 2014. June Hopkins passed away in 2015. 
June Hopkins has been celebrating artists and craftspeople in her gallery on North Haven, an island off the coast of midcoast Maine, for 60 years. She has introduced us to countless painters, potters, sculptors and printmakers and always in a beautifully presented exhibition.
I've known June my entire life. She was one of the first people to support me when I decided that art and design would be the direction in which I would steer my life. Her support of the arts is evident in her four sons, Eric, David, Will and Thomas all of whom are full of talent and ingenuity. June's Gift Shop and the North Haven Gallery feel like home to so many of us and there's nothing like walking in, looking down the long building back toward the waterfront and seeing June standing there with her gentle smile. She embraces me with a huge hug every time I see her and we love catching up on everything around us.
The following article is a nice tribute to June, however I must add that I don't think of June as being "severe or stern". I think of her as being a hardworking woman dedicated to her family, shop and gallery, an enormous supporter of the arts and a loving mother and friend to everyone that knows her. She's certainly not a pushover and she will tell it like it is, but that's what I call genuine, honest and real. June, here's wishing you a very happy 60th anniversary in business, 90th year in life and an enormous thank you for all of your support over the years. With all of our love and admiration, angela, sherwood, betsy and the entire team at angela adams… you're an inspiration!
"A North Haven Gift"
The sign on the front of the 19th-century frame building is very much like the woman who has run the business inside for the last 60 years. gift shop, it reads. No more, no less.
June Hopkins, who turned 90 on November 2, 2013, is as plainspoken and direct as that sign. She never planned to be operating a gift store on North Haven for over half a century, but that's what happened. It certainly wasn't a lack of ambition or confidence about making her way in the world that anchored her on the island's landing, just above the ferry terminal, overlooking the Fox Islands Thoroughfare. That waterfront perch, in good times and bad, has been central in her long, rich life.
In a frank conversation about her two milestones—turning 90, and running the store for 60 years—Hopkins revealed that she stayed with the shop primarily because it let her raise her four sons on the island. It allowed her family to retain a place on that busy commercial waterfront, even as others have sold to summer folks and moved inland. And, despite a reputation for being a little severe, a little stern, Hopkins genuinely loves meeting and interacting with the people who visit and buy. So much so that she extends what she calls courtesy in-house credit: If a visitor wants to bring home that pretty piece of pottery or those pillows bearing the map of the Fox Islands, but doesn't have the cash (she doesn't bother with credit cards), Hopkins will tell her customers to send her a check when they get home.
It hasn't always been an easy or a blessed life. Four tragedies loom large—the death of a child by drowning, the death of a husband, and the death of two grandchildren, all before they'd lived what obituaries call a full life.
Is it true, as those who know her say, that she's a strong, maybe even a tough woman?
"I had to be," she says. But here it is, perhaps the most telling thing she will betray about herself: Instead of an expression of world-weary resignation, what follows those words as she leans forward are the beginnings of an impish smile on her lips, a twinkle in her still-clear hazel eyes.
Read more about June Hopkins here.
>> Article by Island Journal.