Our Inner Nature Contest Rug is Here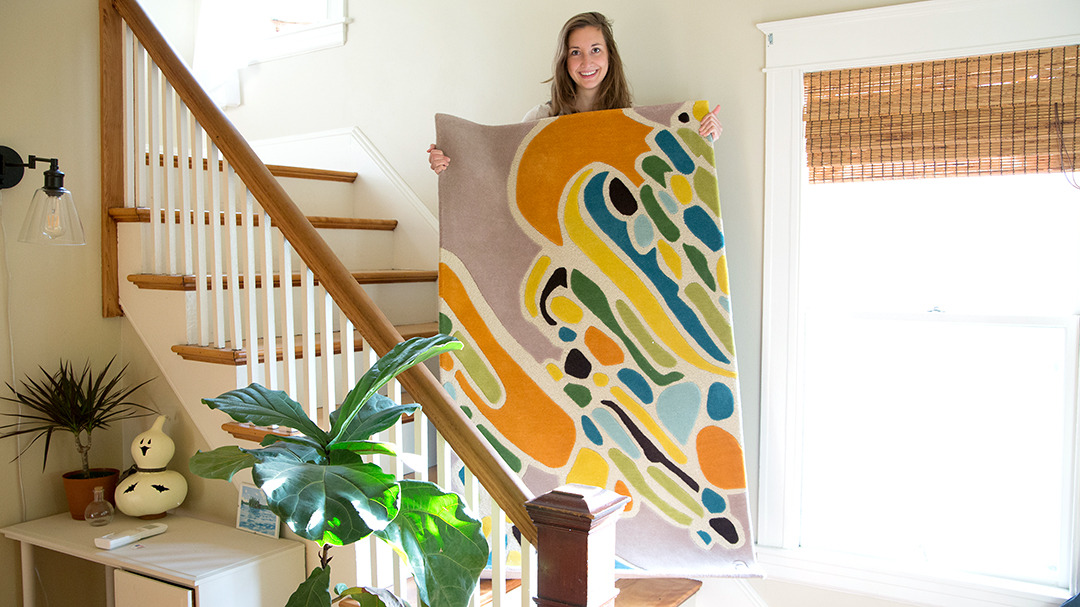 Last year we launched the
Inner Nature Collection
, a collection of rugs and furniture celebrating the beauty of expressing our true selves. Shortly after the launch, we invited our followers to consider their own Inner Nature and share their thoughts with us in a short essay contest.
The winner, Ally Carrier, was among hundreds of entries we received, and was chosen as the winner by Angela based on her answers to the interview questions. Ally won the chance to collaborate with Angela on a one-of-a-kind rug with Angela that is reflective of her Inner Nature. Over the past few months, we've followed the progress of their design collaboration.
Below is Ally's winning entry, which consists of her responses to questions we posed to all entrants:
Q: What three words would you use to describe your Inner Nature?

Ally: Earthy, Nostalgia Balanced

Q: What colors, materials, shapes or patterns come to mind when you consider your Inner Nature?

Ally: The colors that come to mind are those of children's folklore illustrations – natural, earth tones with pops of muted color (copper reds, navy blue, tree green). I imagine the feeling and off-white color of linen – its simplicity is calming but it also reminds me of baking bread, applesauce, and other ritualistic homesteading activities. Shapes are neither strictly geometrical nor perfect circles; they appear to be more like the natural curves, crevices, and whimsical shapes you would see on a walk through the forest.

When do you feel most like who you are?

Ally: I feel most like who I am when I am early out the door on a crisp fall morning. There's a feeling of fresh rejuvenation when a free weekend morning beckons you to step outside and enjoy the beauty right here in New England, our backyard. I also feel a sense of purpose, and even holistic completion, when I can settle into cooking a meal and know where the majority of the ingredients have come from. Working on a farm has taught me the value and importance of choosing what I put into my body and knowing that we must maintain a healthy, balanced lifestyle not only for ourselves, but for our planet. I am at my 

inner

nature

 when I'm nourishing myself with good food that reconnects me to where I live.
Angela shares her experience working with Ally on this project.
Q: What made Ally's entry stand out from the others?
Angela: Ally's interview struck me immediately because I could visualize her inspirations so clearly. Her reference to vintage children's book illustrations struck a chord with me and sent my mind on a creative journey My favorite children's book growing up was The Country Bunny and the Little Gold Shoes. It was a family favorite and the illustrations set my imagination on fire. I loved how the little bunnies all slept lined up in little yellow beds. The cavernous room full of eggs, pouring out all over in beautiful colors was so over the top and exciting with every page turn. Ally's descriptions took me right into nursery land and brought those images back to the forefront of my mind.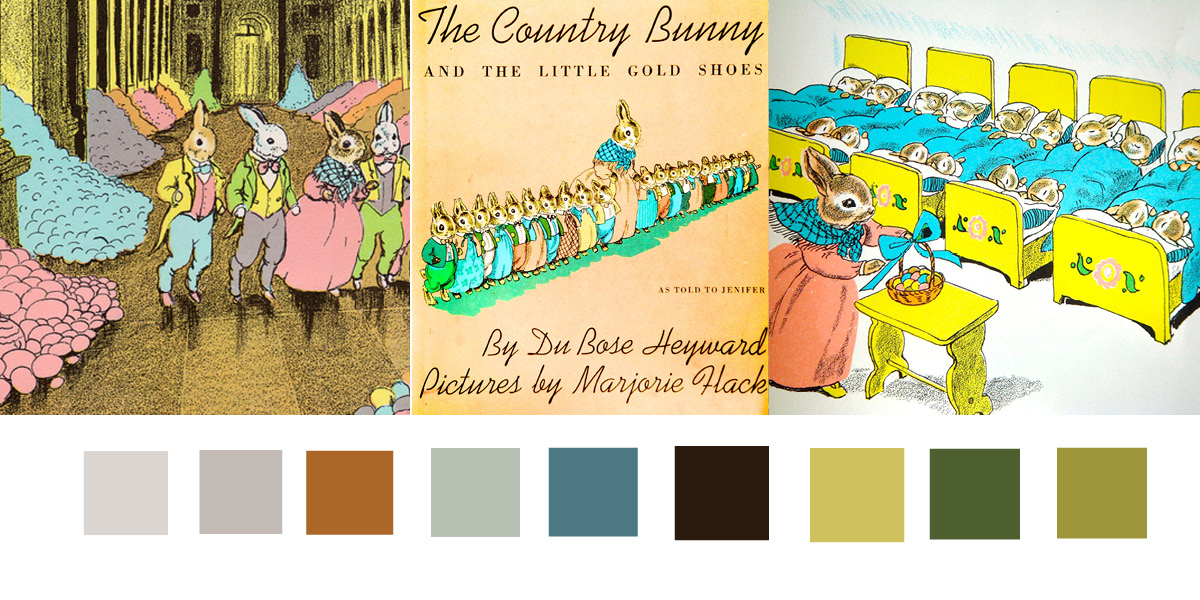 Q: Describe the process of collaboration that brought about this unique design with Ally.
Angela: Ally was great fun to work with. She had a specific vision and we were really trying to capture that combination of playfulness and nostalgia. The final design was modified from a sketch I had done and hadn't quite resolved yet, so maybe it was waiting to be hatched when the time was right and with just the right collaborator!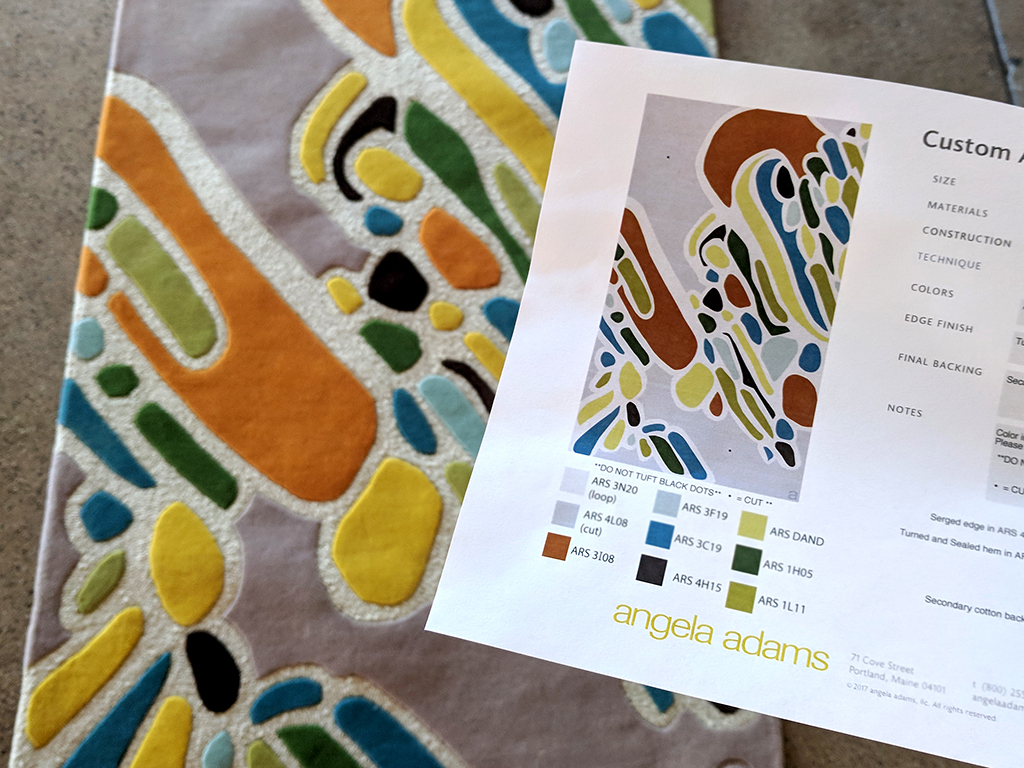 And here Ally shares her experience working on this collaboration.
Q: Can you walk us through how you decided to enter and why?
Ally: I decided to enter the "Inner Nature" contest because the prompt drew me in. What is my inner nature? There were so many different directions to go with this. When I saw that I could put my thoughts to paper and potentially win a personally designed rug for doing so, it was a no brainer! Angela Adams' work is iconic and recognizable, so to have this opportunity was one I couldn't pass up.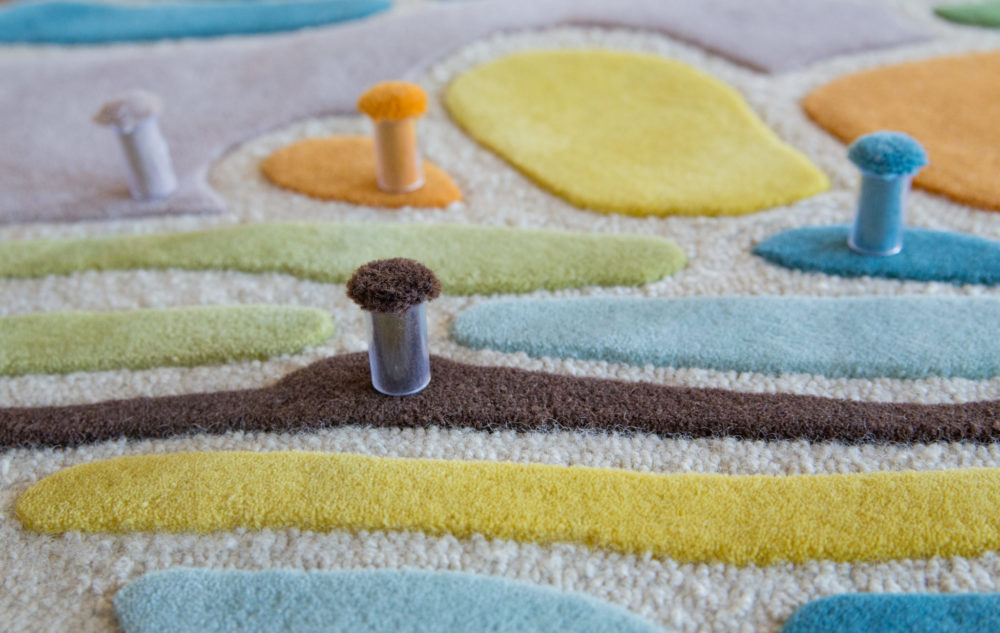 Q: Tell us a little bit about the process of working with Angela on the design, colors and inspiration for the piece.
Ally: Working with Angela through the process was about as fun and seeing the end result. It's not often that you get asked about yourself for this purpose, and it gave me a creative outlet to identify what my "inner nature" looks like. I enjoyed finding images from movies and childhood stories that fit my color scheme and brought me joy. It was a special reminder for me to reflect
on who I've become as a person, something I don't often focus on in the daily grind. I appreciated having a dialogue with Angela because I could tell she was understanding what I was thinking and we were able to communicate through colors, styles, and these images. My favorite words to see in my inbox became "Here's a look"!
Q: Now that you've had the rug for a bit, can you tell us how how you felt when you first saw it, and how it fits into your home's vibe?
Ally: My boyfriend and I recently bought our first home and moved in in August. It's been equally thrilling and overwhelming to have open spaces to fill, decorate, and make our own. Bringing Angela's rug into our living room was like being gifted the family heirloom you've had your eye on. When I first saw it, I was blown away with both how beautiful it was and, more importantly, how much I felt connected to its design. It brings a meaningful centerpiece into the space and creates a harmony among the elements of the room. The quality and craftsmanship are so evident that it makes me paranoid to even walk close to it! It's not only the rug itself that I will cherish, but also the story and memories that it now evokes. It symbolizes this time of my life, who I am, living in Maine, finding my place in the community and making a home for myself here. It grounds me in my journey and will be something I hold on to for years to come, and it will always be rooted to my inner nature.