3 Timeless Furniture Pieces That Fit All Dining Room Styles
The dining room is a part of the home that everyone gathers to share the details of the day, or memories of holidays past. It's important to incorporate a dining room table that fits in with your family's style and needs. Below are three modern, handcrafted furniture pieces that will stand the test of time. At angela adams, we design anything from dining and coffee tables to dressers, desks, cases, seating, and hand woven area rugs. We specialize in handcrafted furniture, call us today for a free quote.
Tula Tables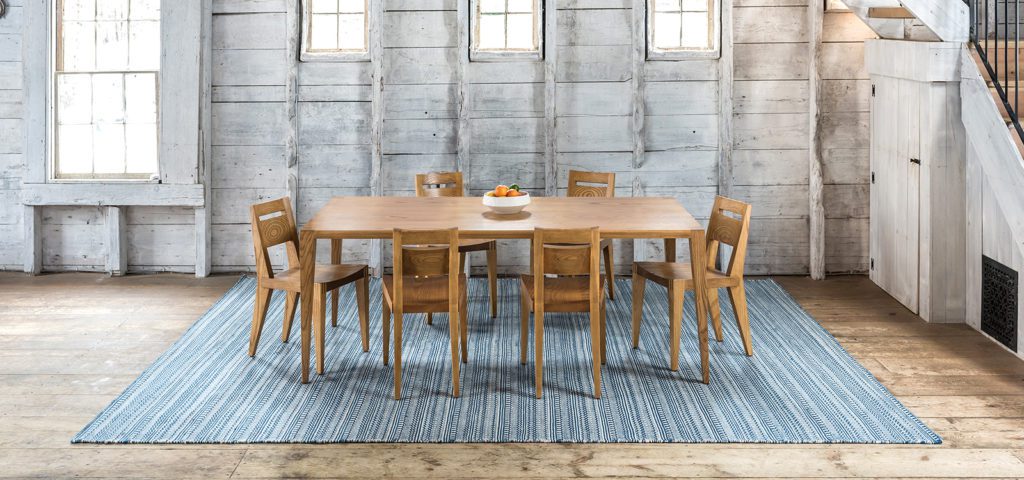 The Tula Dining Table is a timeless design that focuses on sturdy solid wood craftsmanship. These tables are built from quality North American hardwoods such as ash, cherry and walnut with accompanying optional finishes accompanying the wood. At Angela Adams we can customize any Tula Table in the type of wood, finish and dimensions that suit your family. All pieces are made to order furniture in Portland, Maine. Be sure to contact the showroom, or chat with a team member to get a quote for the exact piece of furniture that fits your needs.There are also custom made Tula chairs to fit the style of the table; the wood and finish are also customizable.
Round Bonfire Dining Table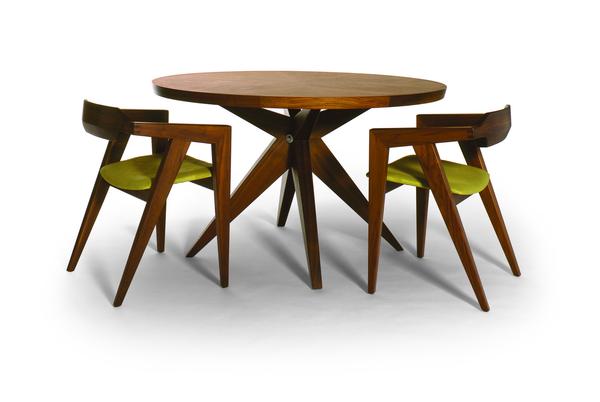 Another modern, yet timeless design is the Bonfire Dining Table. This table is crafted using splined solid wood edge detail and comes complete with a thick veneered patterned top. There is a single and double version of this table available. The Bonfire Table also comes made to order with customizable finishes that can range from natural to amber to bleached. Dimensions can also be selected making this piece a unique home piece to suit your family. The V2 dining chair is a good option for this table, another item that is custom made at our shop. It is a multi-functional arm chair that features ergonomic lower back support. The chair has a sleek-shaped seat that can be woven or upholstered. This piece can also be customizable with wood, finish and upholstery.
Haven Dining Table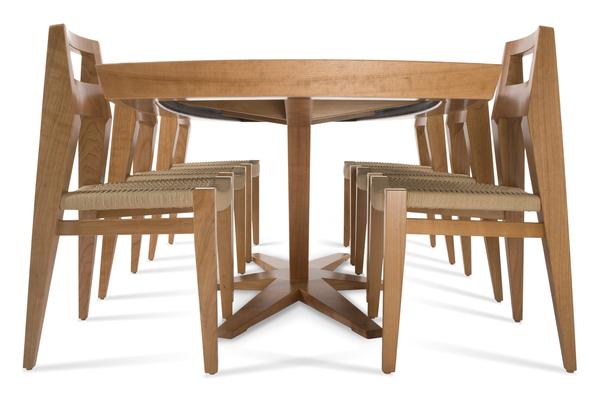 The Haven Dining Table design is distinctly modern, but can fit into any home and stand the test of time. This unique piece designed by Sherwood Hamill here at angela adams features a thick single piece box top construction.This is made of solid wood, like all the furniture featured at angela adams. The Haven Dining Table has a large pedestal base constructed of solid wood. Again, as with all of our pieces, made to order woods, finishes and dimensions are available.The Haven Chairs that accompany the table are also made to order at our Portland furniture design shop.
Our company has over 20 years of experience in creating and customizing unique products for our clients.  Pricing for all of the products listed are based on standard designs. Call our knowledgeable sales team at 800-255-9454 for a complimentary quote on any of our modern furniture.